Neil Fowler
Published by The Guardian
Research reveals the four traits shared by successful anti-corruption organisations from Indonesia to Ghana.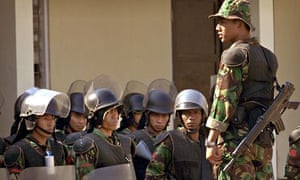 It is easy to forget that governments in developing and middle-income countries are often at the forefront of the fight against corruption. Their struggles to design, implement, and defend anti-corruption institutions in the face of daunting challenges hold valuable lessons for global efforts to ensure transparency and honesty in public expenditure.
The Innovations for Successful Societies (ISS) programme at Princeton University examined anti-corruption agencies in eight countries: Botswana, Croatia, Ghana, Indonesia, Latvia, Lithuania, Mauritius, and Slovenia. Researchers interviewed more than 150 people at all levels inside the agencies as well as outside experts, in order to identify not only the achievements and shortcomings of these agencies but more importantly how they overcame obstacles.
To understand how successful anti-corruption agencies survive and succeed, we explored the ways they fend off the 'spoilers' who seek to undermine or destroy them. ISS researchers found that successful anti-corruption agencies followed several common paths in order to overcome spoilers and build strength and credibility.
Build strength from within
Strong internal controls and accountability mechanisms enable anti-corruption agencies to carry out their missions and avoid internal abuses that can damage their credibility. Useful procedures include those that focus on recruitment, training, and active management of staff integrity, as well as ensuring the highest ethical standards by agency leadership.
Although Indonesia's corruption eradication commission did not announce its first case for over a year after its inception, it spent that time recruiting staff through open competition, establishing ethical codes, training investigators and developing comprehensive internal procedures. This deliberate approach avoided the sort of internal corruption scandal that blighted Latvia's corruption prevention and combating bureau, where two staffers were discovered to have stolen seized assets valued at about $300,000 (£177,420).
Cultivate influential alliances
External support is critical for anti-corruption agencies to outflank powerful opponents. Fostering effective alliances with different groups requires both creativity and diligence. Croatia's bureau for combating corruption and organised crime sought to gain media support by training its prosecutors in media relations, breaking down their reluctance to talk to the media while giving them the skills to do so. Ghana's commission on human rights and administrative justice helped to build its own base of support by encouraging the formation of local civil society organisations, with the agency's director personally organising a local chapter of Transparency International. Other potential allies include complementary state institutions, such as the judiciary or agencies responsible for information and communications, or international actors, such as UN bodies or bilateral donor organisations. Ultimately, however, citizens themselves can serve as an anti-corruption agency's most tenacious defenders.
Create norms that support the mission
Awareness and education are seen most often as tools to directly tackle corruption, but successful efforts to change norms or behaviour in government and society also can bolster anti-corruption agencies. An added advantage is that preventive reforms generate little pushback from opponents of anti-corruption agencies.
Mauritius's independent commission against corruption (Icac), Botswana's directorate on corruption and economic crime, and Indonesia's anti-corruption commission all made significant efforts to buttress the integrity of public institutions. For example, Mauritius's Icac coached public institutions through the development of integrity plans, based on best practices. Botswana and Indonesia went a step further by engaging with youth groups and students to build awareness of corruption in the wider population.
Choose targets carefully
Some agencies have the tools and support to take on high-profile cases, involving high-level officials and prominent interest groups. Other agencies, especially newer ones, often have less credibility, capacity, and political clout. Either way, leaders of anti-corruption agencies must weigh the pros and cons of prosecuting each case with extreme care, because unexpected backlash and retaliation can hobble or destroy their organisations.
Latvia's anti-corruption bureau found that its high-visibility approach against oligarchs generated public support in the wake of the 2008 financial crisis, although this was partly driven by austerity measures put in place during the time. By contrast, when Lithuania's Special Investigation Service investigated politicians in the run-up to elections in 2004, it did not have the media and public support it needed to overcome the pushback it faced. The service's director resigned, and the agency turned to a low-visibility approach that emphasised education and the simplification of bureaucratic processes in broader government.
Of course, these approaches do not guarantee a corruption-free country and are just one facet of a comprehensive strategy to increase overall transparency and accountability. However, they do provide valuable guidance for reformers around the world who hope to make inroads against endemic corruption in their countries and in their own institutions.
This article is an abridged version of a paper written by Gabriel Kuris. Neil Fowleris is associate director of Innovations for Successful Societies at the University of Princeton. Follow @PrincetonISS on Twitter
Read more on: http://www.theguardian.com/global-development-professionals-network/2014/may/13/anti-corrutpion-agencies-transparency-tactics